Commodities: The Next Frontier for Digital Transformation
Over the past several decades, the role and reach of technology has exploded. Computing power that took up a room 50 years ago reached your desktop 25 years ago and has been in your pocket for the last 10 years. In particular, mobile devices with highly integrated software have changed the ways we navigate, bank and communicate. These activities are now digital, efficient and slick. As more and more business processes become automated, software-as-a-service is fundamentally changing the ways we work, while emulating the high quality user experience of mobile.
Change in the financial services sector has been led by financial technology (FinTech) start-ups that initially focused on payments, lending and retail banking. The waves of change can be seen on the retail banking side with apps to track your spending, deposit checks, and trade stocks on the go. Yet on the institutional side, digital transformation is still in its early phases.
Banks are shrouded in onerous regulatory and capital requirements, and hindered by a patchwork of legacy systems, so it's not surprising that their trading floors have been slower to change than their consumer facing functions. However, in recent years a cultural shift to embrace new technologies is taking hold. What was once seen as an existential threat to the trading floor is now widely viewed as a PnL opportunity.
Capital markets FinTech companies have primarily focused on eliminating paper and manual processes on the trading floor and in the back office. Each new company has focused on a particular asset class in driving this trend of digitalization, which started with fixed income and currencies and is moving toward commodities. According to recent data from the BIS and Greenwich Associates, the pace of digitalization is expected to accelerate, building on a base of asset classes already trading electronically on FinTech platforms: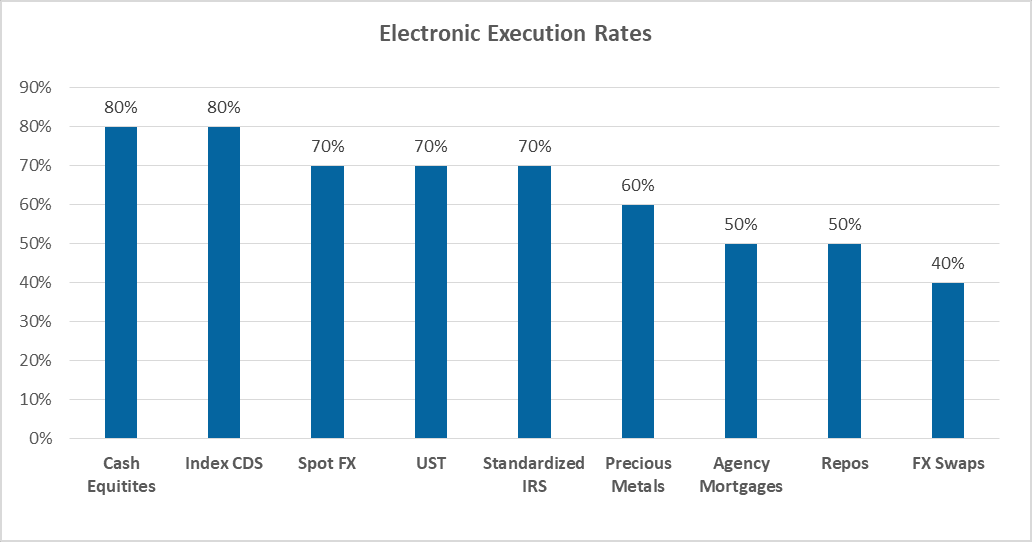 The recent public health crisis has only solidified this decade long trend. In a recent article, the CEO of ISDA put it succinctly: "…the coronavirus crisis…has emphasized the value of automation, and created a strong rationale for digitization of legal documents, online negotiation and execution of agreements".
Technology solutions that digitize and unify markets, especially multi-dealer platforms, enable better client access and experiences. For the bank marketer/trader, new platforms provide efficiency and scalability, allowing them more time to focus on providing higher value-add advisory and products to their clients. Commodities, and especially energy, lags these other asset classes and remains ripe for digital transformation. Literally it is the next frontier.
Tellus Hedge is leading that charge to help improve efficiency, access, and transparency for both corporate end-users and banks in commodities markets. For those that have not done so already, please reach out to sales@tellusmarkets.com to schedule a demo of our electronic hedging platform.