Tellus PPA creates a new paradigm for renewable power in the US with enhanced liquidity and an end-to-end digital workflow.
Learn More
Request Demo
Master The Market
Tailored analytics, combined with our unique process, helps you identify and win the best market opportunities.
Save Time & Money
Our fully digital process reduces transaction times from months to weeks, at a cost much lower than current methods.
Exceed ESG Goals
Our platform and tools help you design and implement a program for efficient renewable power purchasing.
Features & Benefits
For Buyers

Achieve your ESG goals with our turnkey solution to quantify, and transact to offset, your company's Scope 2 emissions.

Lower your transaction costs (zero upfront), to make smaller deals economical and encourage diversification to reduce risk.

Easily create load forecasts, and turn them into power market requirements, to focus your search for potential deals.

For Sellers

Reduce your project sales costs using our efficient digital marketplace, with reasonable fees and no upfront costs.

Highlight the qualitative ESG benefits of your project to prospective buyers, with our unique functionality.

Actively manage counterparty credit risk while selling out your project, using our proprietary project credit rating tool.

The Marketplace

Access more diverse deal flow in one place, and improve purchasing outcomes, with our open and transparent marketplace.

Efficiently complete your deal using our proprietary algorithm to recommend deals, then digital negotiation to finalize terms.

If circumstances change, resell portions of PPAs purchased on our platform using our first-of-its-kind secondary market.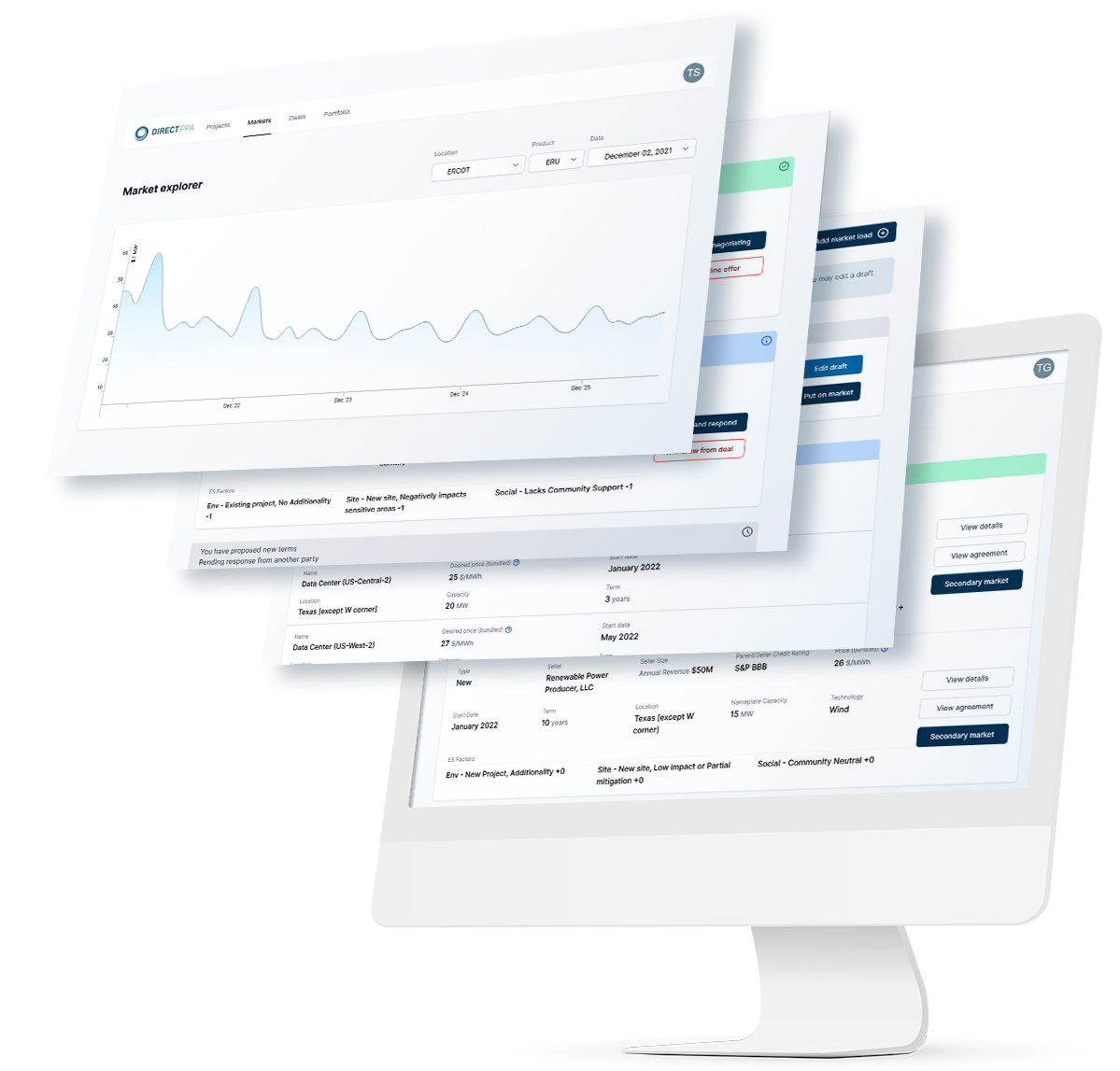 Want to join us?
If you are a commercial party seeking to buy or sell renewable power, you can use our efficient online application process.
Basic membership is free, and there are no onboarding or setup fees.